News
The luxury life of Ly Nha Ky at the age of 38: Career sublimation, buying branch stuff in batches but she still was lonely.
Sunday, 07/02/2021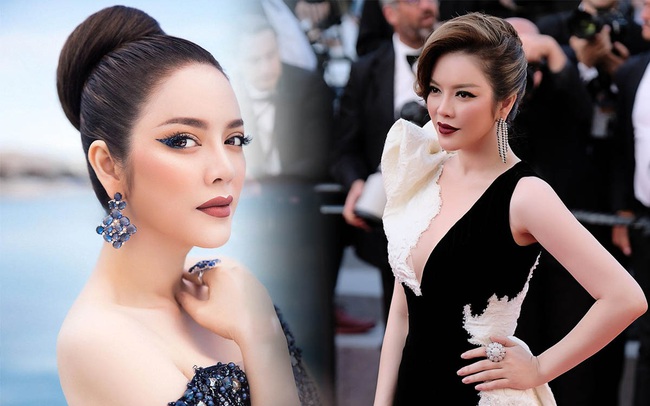 Ly Nha Ky has an official name is Tran Thi Thanh Nhan, she was born in 1982 at the small village in Vung Tau province. At the age of 16, she followed relatives to Germany to live and study, so she could speak fluently in English, German and Chinese languages.
She has both beautiful and multi-talented, the success of Ly Nha Ky is understandable. Not only successful in the movie industry, she is also a successful businessman and active social activities.
She shared that the reason why she used the stage name" Ky" due to in her life sometimes has many surprise. It was not wrong, especially when looking at her successful process, from an actress who was surrounded by a besiege to the most prestigious "branded" businesswoman in Vietnamese showbiz.
From "scandal actress" becoming the owner of the diamond store.
Ly Nha Ky started her career as an actress in 2006, with the role of Truc in the movie "Tinh yeu con mai". In 2008, she made a strong impression on audiences through the role of Diem Kieu in the movie "Kieu Nu và Dai Gia".
She shared that she was being an actress is a contingent, but never thought "her life is carpeted in art".
Although she actively participated in many films, with more than 15 films including showing in movie and television such as "Gio nghich mua, Ghen" ... but Ly Nha Ky's acting career still not improvement. In contract, she was known as through the public noises, from the suspicion of "fake movie but true love" with Viet Anh actress to the incident of offensive costumes.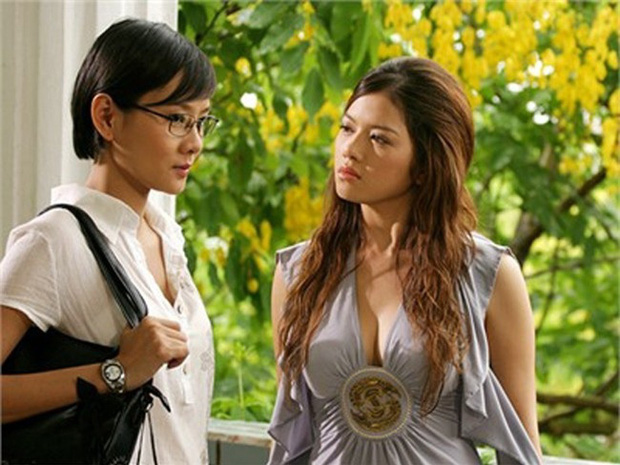 Ly Nha Ky in a movie "Kieu Nu và Dai Gia"
Leaving the film industry, Ly Nha Ky turned to social activities and achieved a lot of success. She has continuously worked as an ambassador for a series of projects such as "Lac Tay Nhan Ai" (to raise funds to support women suffering from domestic violence), Operation Smile (to raise funds for surgery for children with dental defects).
In 2011, Ly Nha Ky's name become more populous when she became the first Tourism Ambassador of Vietnam. In particular, in 2016, the actress was appointed Asian Princess by the Mindanao tribe in the Philippines, with congratulations from Philippine President- Rodrigo Duterte.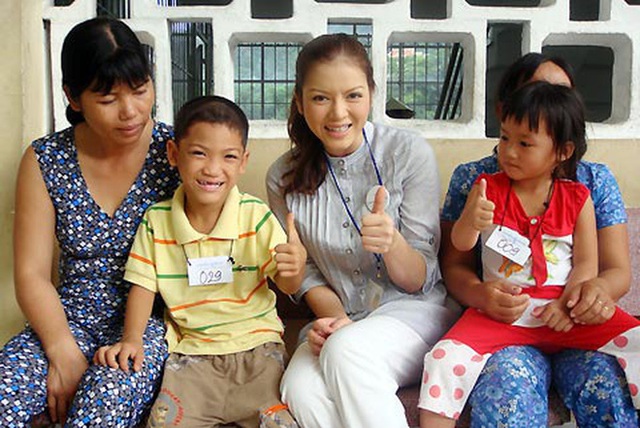 Contrary with the acting career has some quiet, Ly Nha Ky is extremely "cool" when started to business investment. She is the founder and operator of LYNK Group - an ecosystem of businesses developing in many fields as real estate, fashion, jewelry, media, entertainment, charity, ...
LYNK Group which distribution many high-end jewelry brands in the world to Vietnam as Grisogono, Paolo Piovan, Crivelli Gioielli, … In 2013, Ly Nha Ky launched her own diamond brand with its abbreviated name – Lynk with an extremely luxury showroom located in the center of District 1 (Ho Chi Minh city). Therefore, Ly Nha Ky is also known as "diamond woman".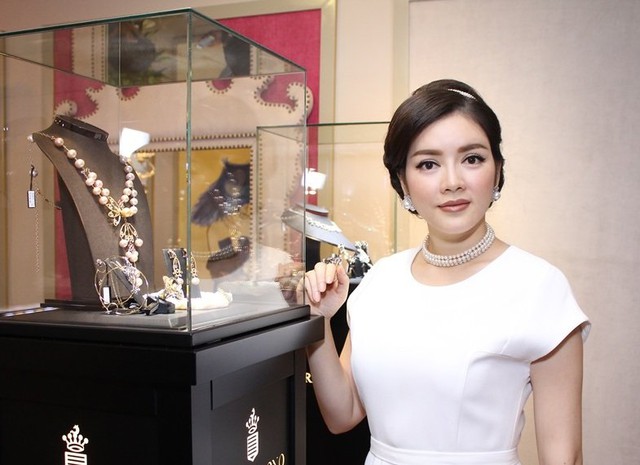 10 years after leaving the entertainment industry to start in business path, Ly Nha Ky shared: "The top moment of acting after the movie "Kieu Nu and Dai Gia", I see an opportunity for myself with pedal to transition to do business'.
Recently, Ly Nha Ky would like to come back entertainment industry. "The fire in me was already burning red, not like the immaturity at the beginning " She said that.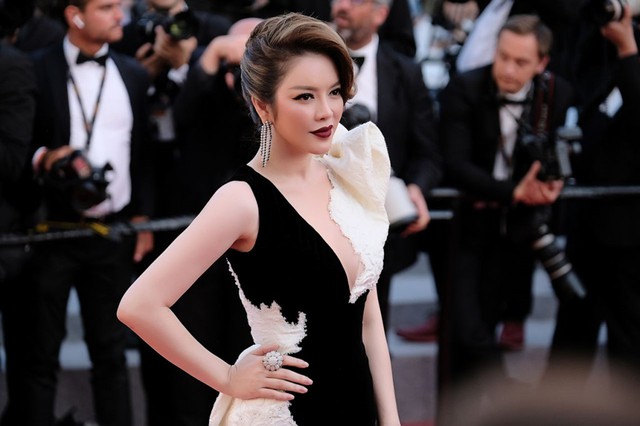 Ly Nha Ky has bought branch stuff in batches
Regarding to the "cool" in showbiz, there has no one compare with Ly Nha Ky. This is also the factor that makes her reputation more increasingly, along with the "huge" assets of real estate and luxury brands that many people admire.
She owned a billion-dollar villa in Thao Dien residence, District 2 (Ho Chi Minh city). From the outside, this villa looks like a white castle with the Saigon river view. The furniture is also imported from outside country, combined with the main color of themes is white and yellow, adding more elegance and nobility to this place.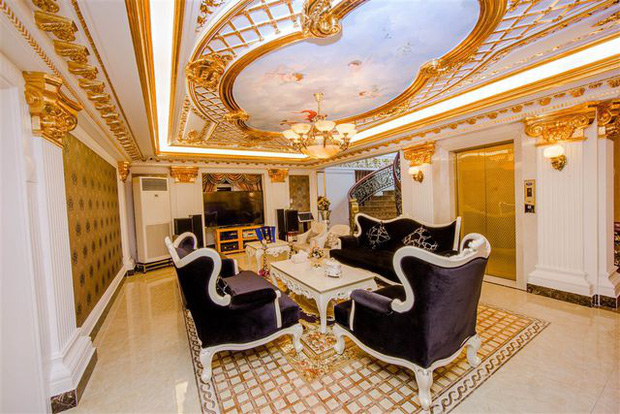 Furniture in the villa in District 2 of Ly Nha Ky
Besides, she also owns another monumental property in the urban area of Him Lam, District 7 (Ho Chi Minh City). Last year, on the occasion of the Vu Lan festival, the businesswoman also vigorously built a 10,000-square-meter mansion in Vung Tau to present to her mother, both to flavor her ancestors and as a place for family reunions.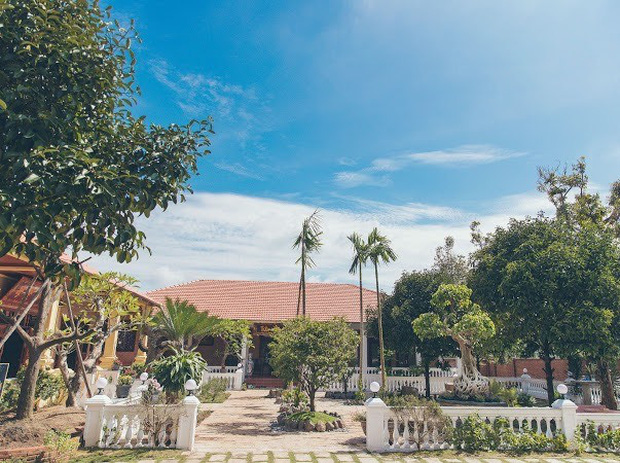 Present of Ly Nha Ky for her mother- A mansion located in Vung Tau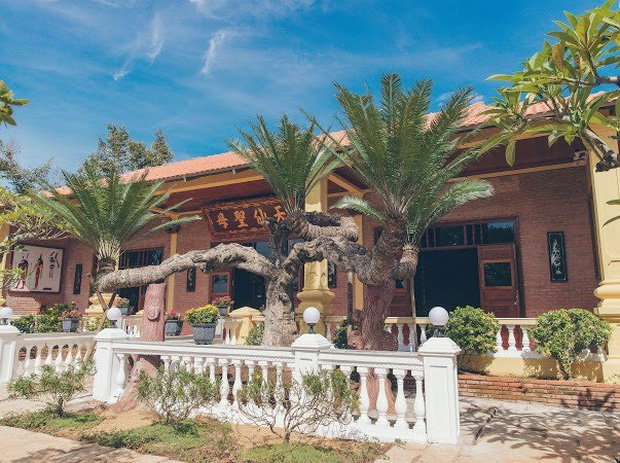 Although she is not too interested in supercars, Ly Nha Ky also bought herself a Rolls-Royce Ghost worth more than 40 billion VND as a means of transport in the city. In addition, she is also a businesswoman who owns a 5-star yacht in the line of Ferretti Yachts that costs up to 100 billion VND.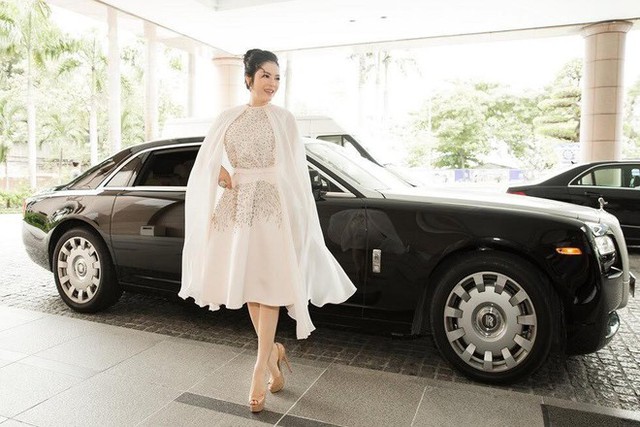 The furniture inside yacht of Ly Nha Ky
The same as many other Vietnamese artists, Ly Nha Ky also has an endless passion for luxury brands. As the owner of the famous diamond store in Saigon, in the actress's collection always has necklaces, earrings, handshakes ... which was valued up to tens of billions dong.
In 2013, she makes everyone surprised when appeared at Cannes Film Festival in the clothes Haute Couture dress of the Chanel which has price nearly 2 billion dong, accompanied with jewelry set has price up to 12 billion dong.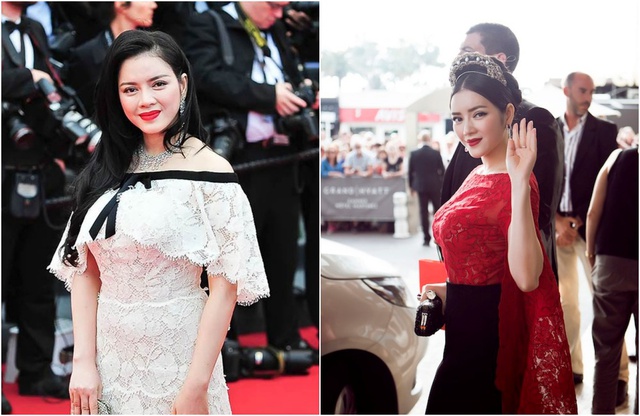 About shopping, Ly Nha Ky shared that "I buy too much, I have color blindness, so when I buy brand stuffs, I buy a lot. For example, if this collection has 15 colors, I usually buy all 15 colors for one style." Therefore, in her collection has many bags with the same design, just different in colors.
Buying a lot of expensive items, but Ly Nha Ky insists that she is not dependent on luxury brands: "I like to own brand stuffs but do not concern them too much. I have too many brands, so I do not have enough time to take care of them. This is completely real, "she shared.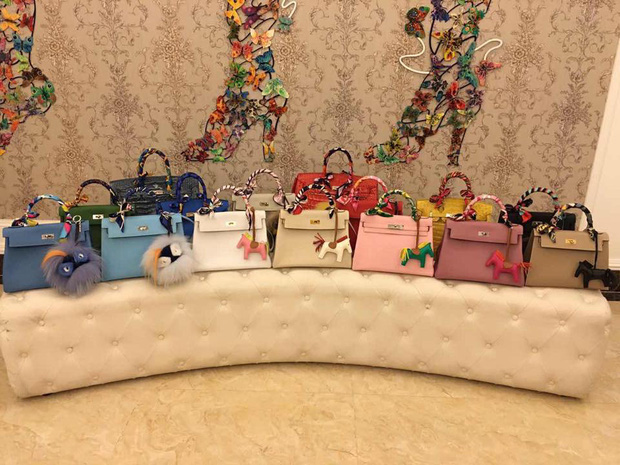 Collection of handbags with the same design but different colors of Ly Nha Ky.
"I don't see them as things that make me dependent on. I consider them just items that cater to myself. So when I use the brand stuff, I just put it in my pocket and put it away, different with too adore branded stuffs as some people ".
Mysterious relationships and present life point views
Besides a successful career and a huge fortune, Ly Nha Ky also possesses a "ultimate weapon", it is a close relationship with many world-class figures. Perhaps in the artist world, people rarely have many adoptive parents and as siblings as this businesswoman.
The first foster – mother that Ly Nha Ky announced was billionaire Alice Chiu - Chairman of Henyep Group and Sheen Hok International Charity Fund. In addition, she also has a second foster – mother called Madame Wong - president of Enigma diamond corporation, who is known as Hong Kong's "diamond queen".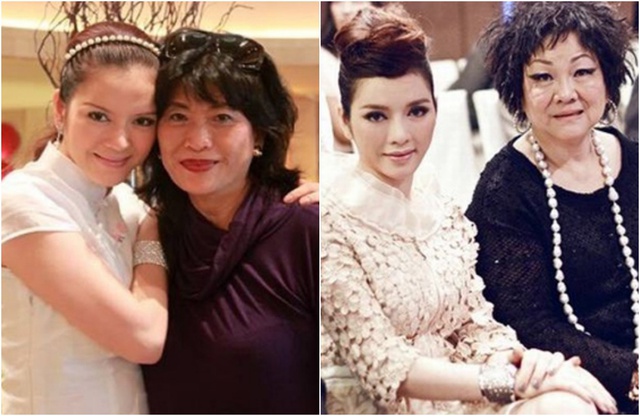 Ly Nha Ky and her foster- mothers: Madame Alice Chiu (left) and Madame Wong (right)
In addition, Ly Nha Ky is also connected with billionaire Chavit Singson - a famous Filipino businessman and politician - and "jade king" Soofeen Hu - a Chinese jewelry artist of Myanmar origin. They both adopted her as their adopted sisters.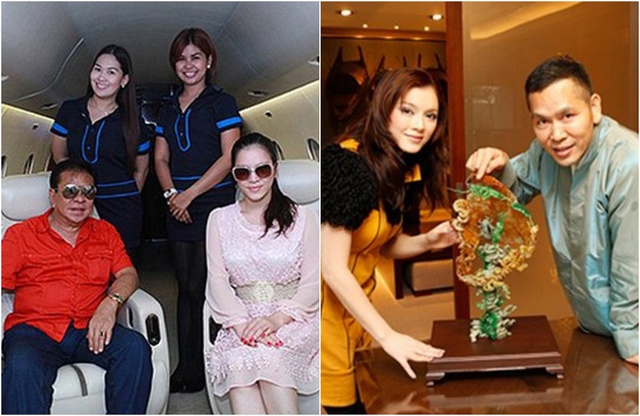 Ly Nha Ky and her adopted brothers: a billionaire Chavit Singson (left) and artist Soofeen Hu (right)
Both operating a business and participating in events, Ly Nha Ky is an extremely passionate person. However, no matter how busy she is, she tries to spend the most time with her mother.
"I can cancel all my business or meeting my partner so that I won't be late for my mother's check-up even for one day. Mom can't get used to food and life there so I buy a house in Singapore to help her can feel like a family, "she once shared. She shared that.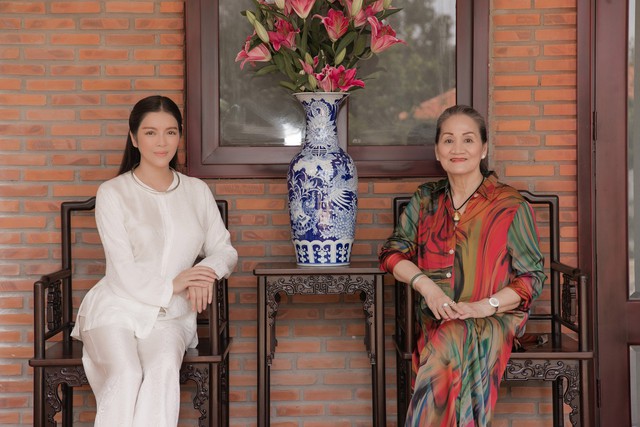 Ly Nha Ky and her mother
She can put the job aside for her mother, but Ly Nha Ky is not so brave in love. In 2019, she broke up with her boyfriend after 9 years passionate loved.
"I love him but don't dare to trade my career to choose a family. He's just looking for another peaceful place which was logistical. He told me as a volcano, secretly but when spraying will burn everything. I did not make him feel safe, "she said.
After a period of struggling to overcome the pain after the breakup, Ly Nha Ky come into the nature to balance her life. She found the peace in the park's pleasures such as growing vegetables, picking fruits, cleaning the garden ... No more sparkling outfits and silver jewelry, the businesswoman appeared with a simple appearance but her smile shinning on the lips.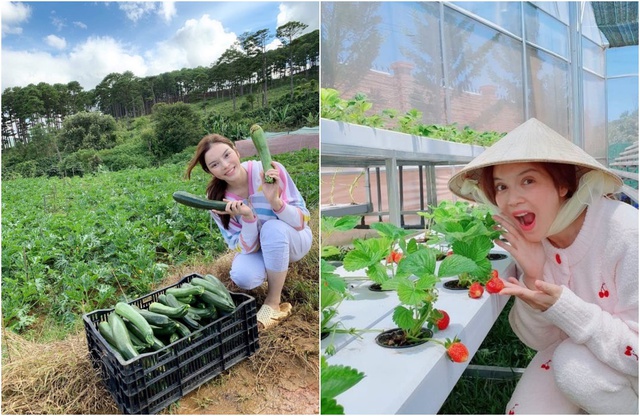 And now, Ly Nha Ky is ready to accept new love if it comes. "Now I am much gentle. Later, if people know about me married to a normal man, it should not be shocked or too surprised", she shared.
The businesswoman also said that she feels her life can be considered as a complete one up to this point. Ly Nha Ky just wished to make up for the poor childhood in the past, when there was no food or clothes or a shuttle bus. "That's it, my wish is simply like that," she said.
OTHER NEWS