News
Nha Ky: I not only have diamonds, brand name!
Monday, 24/12/2012
"Not only the diamond, brand name, there are many other aspects of Ly Nha Ky that people do not know", Ly Nha Ky share in the occasion to return to cinema
You looks like the type of person not "photogenic", right?
Oh, I met 100 people, 100 of them said like that. Even myself, when looking photos, I feel as though in real life I have attracted more than I should. This is probably the most unfortunate thing in my life. At first time hearing people comment like that, I feel a little bit sad because most of the audience will look at myself in pictures than in real life. I can't go around for everyone to feel right.
However, now I accept it. Thought for the same, this is probably funnier than getting bad comments in real life, right?
Well, that's very interesting. I do not "eat" photo, TV series also but the movie is really "eat".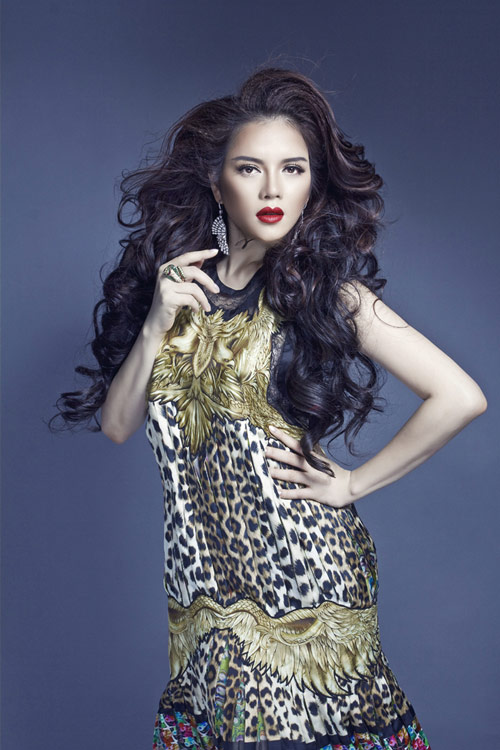 Ly Nha Ky owns a very sexy and feminine beauty.
Did you want to mention about "Cool summer" movie has been launched?
Costumes, pictures for Hoa character in this film are my own creation. I put sewing dresses in Hong Kong. When finished, my staff flied to Hong Kong to take it, because if using the different transfer forms, it may take up to four days while I accepted the invitation to participate in this film exactly one day before the shooting.
What makes her preparation for the film Cold Summer become urgently like that?
Director Ngo Quang Hai casted and select all of the actors in the film, except for Hoa character. Only two days before the shooting, but the Hoa character does not appear immediately.
Meanwhile, Hai have someone contact me. At the meeting, when I had barely heard him say about Cold summer script I say immediately: My dear, I'm very busy and I have no plans to return to films. I'm waiting for a dramatic role.
Mr. Hai said that so now I take the time to give him 30 minutes. He summarizes this character as I like it or not.
When he summarized in halfway, I say: Ok, I understand the problem. I promise tonight I will read the script and respond soon.
About 1h that morning, when the other work was done, I could retreat and read the Cold summer's script. The more I read, the more I feel that the Hoa characters close to me. Like the 6th sense, I feel her breath, feel her feelings, thoughts, and love.
She was like a beautiful bird locked in a cage. She wanted to be true to herself, want to escape, but she was not brave enough.
I sympathize with Hoa, love her because I am also a woman myself. I understand in all societies, women have to suffer disadvantage things than men. Hoa character "fired" me and forced me to go back to the cinema.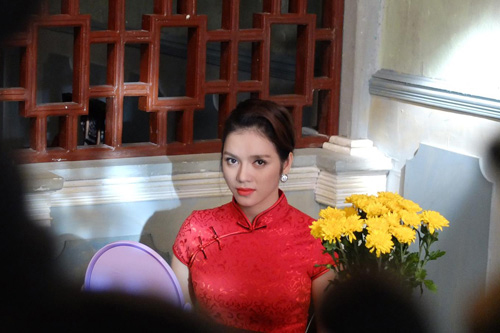 All costumes of Ly Nha Ky in Cold Summer were sewed in Hong Kong
Busy with the business, how you take the time for Hoa character?

Due to my busy schedule, so I have to work in the company from 8am to 6pm. Then I went to studio and work to 6 am next day. I keep working with such intensity in nearly three months. The film mainly takes place at night, so I have to concentrate highly. Fortunately, every scene I just made about a time or two.
During that time, I ate, change clothes on car when come from studio to the company and vice versa.
In Cold Summer, you has very hot scenes with male model Ha Viet Dung. You have done scenes yourself or by others?
I knew that I would be asked this question (laughs).
Just before the film's release, I also think people will be very concerned about this issue. And the fact that before our conversation took place a few minutes, when I had just stepped out of a movie theater, a spectator pulled my hand to ask: the last scene done by myself or by others?
When watching movies, the audience will feel hot scene is very hot, very real and very intense. I think audience as well as the reporter also subtle enough to realize I did it myself or ask someone else.
If the audience though you did by yourself, so what?
So that is my success! (laughs). However, in the case of other people play it, I would also like to thank her. She is not known to everyone, does not appear in the media, but she helped me put Hoa character closer to the audience.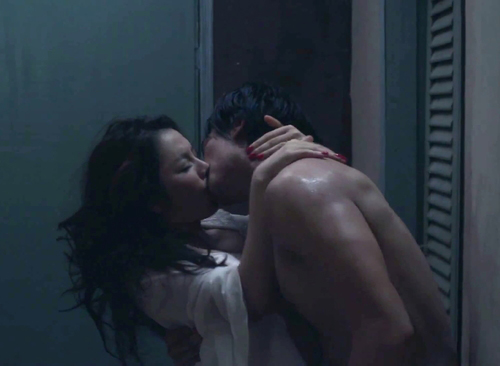 Ly Nha Ky has a lots of hot scenes with model Ha Viet Dung in Cold Summer.
An Hoa characters is avid and full of passion but weak and having a tragic fate with Ly Nha Ky - people always splendid appearance in media with the expensive suits, expensive diamond jewelry. Between two people, whether in common?
Some people have not seen me in real life, they only pay attention to the diamond jewelry that I wear on how much money, which dress I have the same with stars of Hollywood. However, I have not only the diamond, brand name, there are many other aspects of Ly Nha Ky that people do not know.
But I can't change everyone's thinking about me quickly. It takes time. As before, when I received the tourism Ambassador, I have no way to prove to everyone that I did not gain anything from this position and it does not make me more famous. But after a year people understand me, understand the contributions that I do for the country.
You have no benefits, no reputation as the Ambassador of tourism, but surely this position also gives you something?
It is true that the tourism ambassador gives me money, or fame, but the more promote the image of Vietnam to the world, the more I see the love and pride with our country.
When I was young, I also love the country. However, the concept that it's a bit vague. And now, my love becomes very specific. If I have to go far away, I will miss Vietnam so much, even bowl of instant noodles in Vietnam is also making me cravings more than other delicacies objects, though in Vietnam, I have hardly eaten it.

Devoted to the role of tourism ambassador like that, so you think if next year, you must give this role to others?
Indeed, with the role of tourism Ambassador, I did not do much as I want, but if someone replaced my position, I would help them, communicate my experiences when going abroad, meeting friends in the world, what we have to do to give them the impression of Vietnam, a warm and friendly country.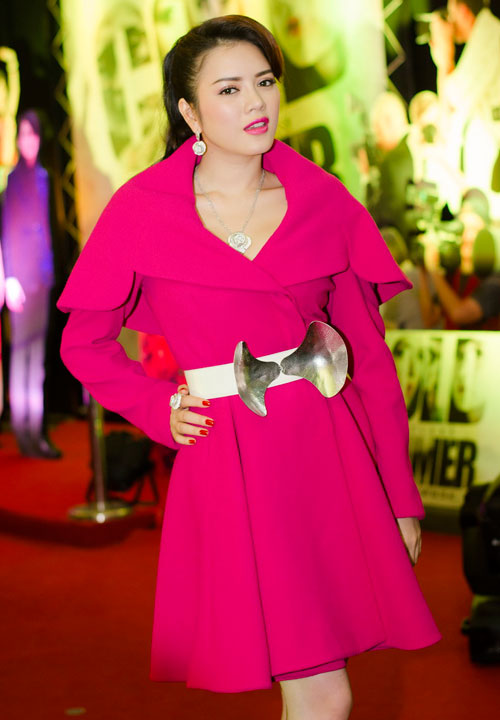 Ly Nha Ky in the premiere Cold Summer in Hanoi, 21st Dec.

Not talking about work, about diamonds, brand name, but why you have never revealed for the lover?
I met too many waves. Moreover, I also think that, not many people can withstand the rumors of showbiz. I'm taking my best to protect my loved ones.
For years, public still rumors tingling you are getting married?
People see me 29, 30 years old so they just predict the end of the year I married, but actually I do not have that plan.
So you can reveal a bit of her lover?
He understood me, loved me and always supported me in every area in which I participate. For the time being, I can only say that.
Well, thank you very much for this interesting conversation!
OTHER NEWS